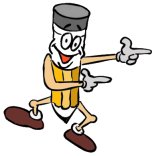 Artwork
Are you creating a newsletter, brochure, notices, shop signs or a special mailing? Do you need assistance to create the artwork and make it look professional? Blue Carrot PC Services can help you design your document and create a completely professional presentation.
We will help you: -
Choose appropriate fonts
Add suitable illustrations
Polish your copy or add impact to your notices.
For maximum effect you will need professional assistance to create a layout designed to fulfil your products purpose. We create the artwork for anything from small advertisements, labels, or business cards to brochures, data sheets, forms, in-store notices, letterheads and newsletters.
To produce your artwork we use: -
A range of professional quality DTP software.
Access to a selection of over 10,000 fonts
Output provided in .pdf format (Adobe Portable Document Format) to disk so that you can print a few copies yourself or pass it to a professional print/copy shop to produce as many copies as you require.
Good quality artwork contributes to your success and will enhance your corporate image.